So you want to know about growing apples in Australia?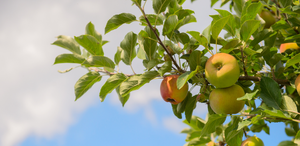 Apples are perfect in the any garden; they grow well when planted in the ground and in pots.
Our multi-grafted fruit salad trees require no second tree for pollination! Plus, you can plant them anytime of the year.
Apples are commonly grown in cooler regions, but did you know there are also low chill varieties that will grow in the subtropics? Keep on reading to find out more about growing this scrumptious practical fruit in your own garden.
Climate: We graft with varieties that are suited to all climates of Australia. Choose from red, yellow or green skin apples.
Varieties for All Climates (+Subtropics) are:
Red Lady
Tropical Sweet
Golden Dorset
Granny Smith*
Green Glow
Varieties for Cold Climates are:
Sundowner
Golden Delicious
Pink Lady
Granny Smith*
Jonathan
 * Granny Smith is suitable for both all and cold climates.
For information on the varieties we graft with, go to the Tree Information Tab - you'll also find our interactive climate map here and will be able to check which of our Apple Fruit Salad trees will grow in your area.
Position: Best to place in a sunny spot, which gets at least six hours of sunshine a day. The soil should be well draining and slightly acidic. For more information you can read further "how to check that your fruit trees soil is healthy". Take into consideration the mature height and width when planted in the ground of the apple tree when deciding on a final spot. Consider growing your apple tree along a stone or brick wall – espalier; looks fantastic!
Height: 2.5 m            Width: 2 m
When it comes to pots the bigger the pot the bigger the tree. The size of the tree and the amount of the fruit you harvest will be determined by the size of the pot.
Planting out in the garden: Quarter fill a bucket and soak to wet all roots (overnight is best) prior to planting out.  Prepare the hole first; dig the hole twice as wide as the pot and to a depth of 2/3, leaving about a 1/3 above ground this will ensure good drainage.  Spread out the roots a little before placing in the hole then place a mound of good top- soil around the tree. Stake the tree to secure.
Larger Pot Growing: Quarter fill a bucket and soak to wet all roots. Remove from pot by cutting the black bag with a knife. Start with a small pot around 30-40cm in diameter and gradually replace with a larger pot each year, up to half a wine barrel, to a wine barrel. If you do decide to plant your apple tree in a very large pot to start off with, remember to fertilise more often and to freshen up the soil every couple of years. Find out more about growing Fruit Salad Trees in pots here.
Moving your fruit tree from the pot to the ground: Some people decide to plant into the ground after some years in a pot simply because they want more fruit from a bigger tree, and so they allow it to grow to its full height. If possible, early winter is the best time to transplant into the ground.
Feeding and watering: Make sure the soil around your apple tree doesn't get to dry; especially in Spring and Summer as this can affect your fruit yield. In Spring apply fertilisers high in potassium to encourage a good harvest of fruit and at the end of winter animal manure has lots of nutrients to kick start your apple tree. Slow release fertilisers with trace elements are a good option for the lazy gardener. Additional liquid fertilising of liquid kelp/worm wee throughout the year will help your apple tree fight off any nasty pests and diseases that may be lurking around by providing nutritional support.
Growing Tips
Balancing: Is extremely important! Keep up your balancing every few weeks to help keep the growing energy balanced between all of the grafted varieties on your Fruit Salad tree in the warmer months – this can be reduced to once a month during the cooler season.
Companion Planting: Placing climbing nasturtium (repels coddling moth), chives (helps prevent apple scab) dill, comfrey, tansy near your apple tree are great varieties to start with in attracting beneficial insects.
Annual Spraying: Over winter either apply a lime sulphur or copper oxychloride spray to help control fungal diseases like apple scab.
Pest and disease prevention: Keeping the area under your apple tree clean; remove any fallen fruit and leaves. Balance your tree regularly to allow for better light and air circulation. Watch out for coddling moth and fruit fly!
Frost: As Spring temperatures often fluctuate it is always good to think about protecting your blossoms from frost.
Thinning Fruit: During the fruiting season it is a good idea to thin your fruit crop. If you have too much fruit or if they are rubbing together take out the smallest fruit to encourage the tree to put its energy into growing larger healthier fruit.
Remove any rootstock growth! When you receive your apple fruit salad tree, you will notice some marks on the central stem of the tree (the rootstock tree). These are indicating the exact location of each graft and their anchor points. DO NOT ever cut these off! This is where your fruiting branches begin to grow. YOU MUST remove any other shoots that may grow from anywhere along the main central stem of the rootstock tree AND also remove shoots that come from the soil. You want all of the energy that the rootstock stem is supplying to go to the grafts to produce healthy branch work so that you can have delicious fruit.
Sign up for seasonal tree care tips and discounts
Our nursery team prepare current, in depth tree care guides each month, which give you the information you need to care for your Fruit Salad Tree as the seasons change. By signing up, you'll also receive our VIP specials. Sign up here, and unsubscribe at any time.
Fruit Salad Trees make perfectly different gifts!
Our gift cards are emailed instantly, so give the gift that keeps on giving! Let them choose the fruit to grow on their tree, and we'll deliver to their doorstep, Australia wide. If you'd like to surprise them with a Fruit Salad Tree, choosing the fruit can be difficult, so here's our guide to choosing the different fruit for your loved one to grow!
You can also check out our current specials here!
Shop all Apple Fruit Salad Trees here:
Leave a comment
Comments will be approved before showing up.