Ultimate Gift Guide | Choose, deliver and gift a Fruit Tree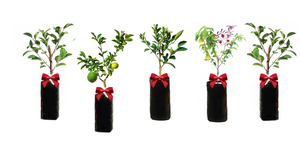 This guide contains tips on how to choose the right Fruit Salad Tree for your loved one, how to get the tree to your place or to their doorstep in time for the occasion, and how to care for your trees before you gift them!
With up to 6 different fruit on the same tree, a Fruit Salad Tree is the unique gift that will keep on giving your special one different tasting fruit! You can choose from a variety of fruits for your loved one to grow on one tree, in pots on the balcony, or in the ground in their backyard. Fruit Salad Trees are great for edible gardens too. We have different varieties to suit all of the Australian climates and we deliver Australia wide.
Choose fruit varieties to match their personality, taste and climate.
We know that it's hard to choose the perfectly different gift to suit the friend or family member who has everything, so we've prepared this guide to help you decide. Plus, once you decide on your tree, you can purchase online and we'll deliver to their doorstep anywhere in Australia.
Plum
For that fiery personality in your life, the Plum is the rockstar of the stone fruits. Its groove and smooth stone makes it stand out from the crowd. Leos and Virgos alike will love growing the plum. Plums don't love the hot humid summers of the top end of Australia, but will grow well in all other areas.
👉 View all Fruit Salad Trees with Plums online here.
Peachcot
Botanically they are a Peach, but they have the texture of an Apricot. A more versatile grower than the Plums and Apricots, Peachcots grow throughout Australia and especially love the tropical and colder climates. The Peachcot is a dark horse.

Never underestimate the peachcot, they may look like they don't like you but once they warm to you, their generosity and their sweet and delightful temperament will never stop giving you the warm fuzzies.
👉 View all Fruit Salad Trees with Peachcot here.
Peach
The warm fuzzy Peach is the heart and soul of social occasions. If you have one of those peachy keen individuals in your life, give them a Fruit Salad Tree so they can plant some love and enjoy basking in their Peachy love and fuzziness. They fruit in November, just in time to get organised for the party season.

We graft two different Peach varieties here at Fruit Salad Trees: The Yellow Peach (Florda Prince) is a medium-sized peach and is the earliest fruiting peach variety. The White Peach (Tropical Snow) is a medium to large freestone Peach. It's resistant to bacterial spot too - what a peach! 
👉 View all Fruit Salad Trees with Peaches here. 
Nectarine
The Nectarine is hearty, strong, dependable fruit. A bit of a health fiend, it's full of Vitamin A and Vitamin C and just loves growing in an edible garden, perhaps with carrots, garlic chives and comfrey.

The Nectarine will enjoy life in any of the Australian climates, and will especially thrive in the subtropical climates of Brisbane, Rockhampton and Coffs Harbour.
👉 View all Fruit Salad Trees available with Nectarine.

Here are some popular Stone Fruit Salad Tree varieties that will keep on giving your loved one fresh, different fruit from the SAME tree!
Do you know someone who is dreaming of an Apple tree? 
Apples can symbolise harmony and fertility in dreams. They can also be symbols of wealth and beauty and perfection- plus they can be a sign of luck in love! So why not buy an Apple Fruit Salad Tree for your loved one to signify your prosperous relationship? Australians eat 200 million kilos a year, so you can't go wrong with an Apple tree!
Yellow Apple
A sweet and aromatic variety, the Yellow Apple can bring that ray of sunshine into your life just when you need it the most. 

The Tropical Sweet variety of Yellow Apple is low chill, meaning that it doesn't need a long winter to sleep. Pops out of bed and springs to life like a kid on Christmas day.


Golden Delicious (warm climate) and Golden Dorset (cold climate) are also great Yellow Apple varieties to choose from.
👉  View our range of Fruit Salad Trees with Yellow Apples here.
Red Apple
There are so many varieties of the ol' classic Red Apple.


There's the warm climate Red Lady, Anna and the cold climate Fuji, Red Delicious, Royal Gala and Jonathan.


👉 View all Fruit Salad Trees with Red Apples here
Green Apple
We all have that firm yet sweet motherly influence in our lives. the granny smith is great for someone who loves to cook. She's just downright dependable as she grows in warm climates and cool climates alike. A late ripening variety (March - May) the Granny Smith has a long shelf life and is self-pollinating. 

The Green Glow variety, on the other hand, would suit a very unique individual friend. He loves to stand out - especially at the beach and coastal areas. 
👉 View our range of Fruit Salad Trees with Green Apples here.
How about a Citrus tree with different types of Citrus fruits?
Citrus trees are so popular in Australia. Lemon trees make excellent housewarming gifts, so why not surprise and delight new home makers with a Lemon tree that also grows Oranges?
One of our most popular trees is a Lemon, Orange and Orange tree. It grows Meyer Lemons which fruit for the majority of the year, plus Winter Oranges alongside Summer Oranges. It's a gift that will keep on giving Lemons and Oranges almost year round!
👉  We also sell instant gift cards so that you can give them the gift of choice!
Select how you'd like to transport your Fruit Salad Tree to your loved one
Now that you've chosen your Fruit Salad Tree, you can decide if you'd like to have it delivered to your place and bring it to your Christmas celebration or if you'd like to deliver to their doorstep. 
We hand graft and personally care for all of our unique trees on our property at Rollands Plains, which is on the Mid North Coast of New South Wales, where we have been grafting for many years since moving from Emmaville, near Glen Innes in New South Wales. We started grafting our unique Fruit Salad Trees in Emmaville in 1990.
Deliver Australia wide via Australia Post
We deliver our unique trees from our nursery in Rollands Plains in specially designed boxes Australia wide. Our boxes are designed to promote airflow and keep your tree protected from bumps in transit. 
We are despatching daily during the busy Christmas period. During the year, we despatch once a week on a Tuesday to NSW, VIC, SA, ACT, NT and QLD. We despatch monthly, at the start of the month, to WA/TAS. You will receive a consignment confirmation, and a shipping estimate in your inbox. 
Calculate the estimated delivery time on the Australia Post website here, from Port Macquarie (2444).
Include an Interstate Inspection Certificate if sending to Western Australia or Tasmania
Shipping trees to Western Australia and Tasmania requires a Quarantine Inspection Certificate from the Department of Agriculture. The cost of an Inspection Certificate is $29.90, which is per shipment not per tree.

Or click and collect in Telegraph Point, New South Wales
Free pick up (local delivery)
You can pick up your order from the Liberty Petrol Service Station, 101 Mooney Street at Telegraph Point NSW 2441 on Wednesday - Friday (7.00am - 6.00pm). Please note that you cannot pick up your tree from our nursery.
Include a Gift tag
Our unique trees have been given as gifts for Valentines Day, Father's Day, Mother's Day, Grandparents Day, and many more. They have also been given as memorials, school projects and tokens of appreciation. You can opt for a Gift tag by including a personal note at the checkout.
Give the gift that will keep on giving!
If you are keeping the tree in the box to hand deliver to your loved one, remember to top up with water, and keep in a protected spot out of the wind. Let some sunlight in (be careful when you open the box!).
We love seeing our customers fruit harvesting pictures and our nursery staff are more than happy to answer any Fruit Salad Tree growing questions you have. Sign up for our seasonal tree care reminders on our homepage for more tips and tricks. 
Contact us on 1800 FRUITS or sales@fruitsaladtrees for advice, questions or concerns. We're always happy to help!
Leave a comment
Comments will be approved before showing up.