Espaliering your Fruit Salad Tree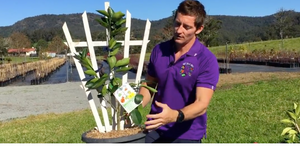 To espalier means to sculpt or train your tree to grow in a certain way. Many gardeners espalier their fruit trees to grow flat against a wall, fence or courtyard.
Espaliering can save space, however, it's also used in wide open spaces to promote growth and can also be used to create fruit tree sculptures and there are some fantastically creative fruit tree sculptures out there! Check them out on the ABC Gardening Australia website.
You can not only aesthetically control the shape of your tree, but you'll also be supporting its branches to hold fruit. Read more about what to do when your tree first sets fruit here.
We recommend espaliering the growth into a fan shape rather than a semi-circle so the tree grows upright rather than horizontally, which may put pressure on the outer horizontal grafts. The fan shape will also allow the tree to grow faster.
Sunlight needs to reach all branches and fruit, so it's best to direct growth to allow sunlight to hit the middle of the tree, you can do this by positioning the branches so there's a V shape between each branch. 
You can espalier your tree along a wall on your balcony or against a fence in your backyard.
Scott demonstrates how to espalier your Fruit Salad Tree here.
More Fruit Salad Tree tips
Did you know that you can also train your tree to grow and spread its branches by using stakes and ties. Read more about training your Fruit Salad Tree here.
As your tree grows, remove rootstock and balance your tree
Remove the rootstock (anything that's not a fruit graft), balance your tree and remember to thin the first fruit. 
Here at Fruit Salad Trees, we stock a wide range of fruit trees, which all boast different fruit on the same tree. Each fruit variety retains its own flavour, appearance and ripening time. We graft citrus, stone fruit and multi-apple trees. 
Our fast fruiting trees can be grown in the ground, or in pots on your balcony.
Shop our wide range of trees now and check out our current specials here!
For more information on caring for your fruit trees, check out the Department of Primary Industries articles on fruit trees.
Leave a comment
Comments will be approved before showing up.