Fruit Salad Trees | Planning your Edible Garden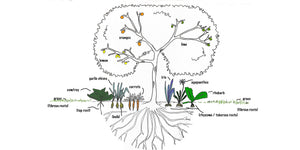 Sick of buying fruit and vegetables when you can grow your own at home so easily? With a little preparation, it's possible to have an edible garden at your doorstep for all of the family to enjoy. Especially with our space saving and fast-fruiting Fruit Salad Trees, which boast different fruit on the same tree. Each fruit variety retains individual flavour and characteristics, making the Fruit Salad Tree a popular choice among urban and edible gardeners. 
First things first, decide what you'd like to grow, and then you can plan your garden to ensure that your plants and trees live harmoniously.
Under Plants
Not all fruit and vegetable plants and trees live peacefully next door to each other.
Fruit trees have shallow roots and some vegetables have a tap root system or bulbs/rhyzomes. These neighbours will live harmoniously. However, as root systems of fruit trees are fibrous and live close to the surface of the soil, they will compete with anything else that has a similar root structure.
Remove any grasses and weeds under the tree canopy and don't plant anything under your Fruit Salad Tree for the first few years of its development so it can establish a canopy. Then you may wish to introduce plants under the canopy, creating a Tree Guild.
The Tree Guild
With your Fruit Salad Tree as the centre; plant Spring bulbs (Hyacinth, Iris, Daffodils, Garlic, Garlic Chives) around the margin as a border. Within the border, clump beneficial plants to attract insects (parsnip, fennel, dill, carrots); fix nitrogen (clover); cover ground and draw nutrients up to surface (comfrey, artichokes, nasturtiums).
Fruits of your labour
Our Fruit Salad Trees are fast fruiting, so you can be enjoying the fruits of your labour within two years. It's best to remove most of these fruits when they are the size of a pea and allow the framework (branches) of all the grafts to develop first. This is especially important whilst the tree is young. As the tree grows, thin out the amount of fruit that has set, which will promote branch growth as well as fruit production. Branch framework needs to be ahead of fruit production to carry the weight of the fruit and establish correct tree shape. More fruit may be allowed to set on any faster-growing grafts, as the fruit production will slow the growth of the branches. Always reduce the number of fruit on the slower growing varieties to allow more energy to go into developing the branches.
As your tree grows, fertilise about four times a year, remove rootstock, and balance your tree.
Choosing your fruit
Our citrus trees boast different varieties of Orange (so you can enjoy Oranges year round), Lemons, Tangelos, Pomelos, Grapefruit and Lemonades. Our Stonefruit range includes Peaches, Plums, Nectarines, Apricots and Peachcots. There are both White and Yellow varieties of Peaches and Nectarines. There are Blood and Yellow varieties of Plums.
We also stock Apple Fruit Salad Trees with up to six different varieties of Apples on the same tree. We have warm climate Apple Fruit Salad Trees and also Apple Fruit Salad Trees that will grow in all climates.
Planting your tree in clay soil? With a little preparation, clay soil can house bountiful Fruit Salad Trees. Read more here.
Not sure which tree will suit your climate? Check our Fruit Salad Tree climate map below.
Keep up-to-date and keep us up-to-date!
We love seeing photos of your edible garden journey. So send us a picture of your underplants - not your underpants! Use #myfruitsaladtree or tag us! Our friendly nursery team can also answer any growing questions that may arise.
Follow us on facebook, instagram and join our email newsletter list for seasonal tree care reminders and current specials.
 
Here at Fruit Salad Trees, we stock a wide range of fruit trees, which all boast different fruit on the same tree. Each fruit variety retains its own flavour, appearance and ripening time. We graft citrus, stonefruit and multi-apple trees. 
Our fast fruiting trees can be grown in the ground, or in pots on your balcony.
Shop our wide range of trees now and check out our current specials here!
Leave a comment
Comments will be approved before showing up.