Planting Fruit Salad Trees in clay soil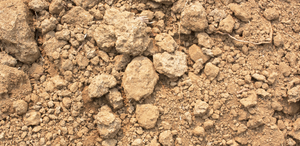 Clay soils can often present challenges for gardeners. But the good news is that successful planting in clay just requires a little prep, a quick soil test and some easily gained understanding of your soil.
Clay soil has poor drainage. Do not dig a planting hole in clay soil and fill with imported soil for your tree - this creates a sump where water collects resulting in all sorts of problems and a very sad Fruit Salad Tree.
Spend some time to create a mound above the soil and plant your tree into that.
Remove grass/weeds from planting area in a circle 1 - 1.5 m across.
Whack with a mattock. If soil is not soggy, break it up a little with a few good whacks using a mattock. This creates fractures/fissures so worms/nutrients etc can penetrate.
Do a quick soil dispersal test by placing a pea-sized crumb of soil in a glass of water. If soil and water remain unchanged, gypsum will have no effect on drainage. If the water goes cloudy immediately or even within 24 hours, your soil will benefit from gypsum.
Add Gypsum if required. Gypsum will not harm your soil and should be sprinkled over the surface rather than dug in.
Add lime if you know your soils are acidic (many Australian soils are).
Create a planting mound using whatever is available to you. A few barrow loads of good quality imported soil may help you get started. Layer some organic matter such as compost, composted manure, worm castings. Mulch with lucerne hay, pea straw, leaf litter. The soil component of your mound will need to be at least 26cm deep to accommodate the Fruit Salad Tree root system.
A cup or two of lime can be incorporated into the mound if you like.
Water well. Water mound weekly and plant in 4 weeks or so.
Plant. When planting ensure the Fruit Salad Tree root ball is above the clay; the soil level of the planted tree is same as mounded soil le, and the organic matter and mulch are kept away from the trunk of the tree.
Thanks to earthworms and micro-organism activity, the organic matter of the mound will improve the clay soil below, resulting in a very happy Fruit Salad Tree!
For more information on planting your Fruit Salad Tree in the ground, click here.
As your tree grows, fertilise about four times a year, remove rootstock, balance your tree and thin the first fruit. 
Happy harvesting! 
We stock a wide range of Fruit Salad Trees, which all boast different fruit on the same tree. Each fruit variety retains its own flavour, appearance and ripening time. We graft citrus, stonefruit and multi-apple trees. 
Our fast fruiting trees can be grown in the ground, or in pots on your balcony.
Shop our wide range of trees now and check out our current specials here!
2 Responses
Leave a comment
Comments will be approved before showing up.