Fruit Salad Trees | Can I grow different apples on the same tree in my climate?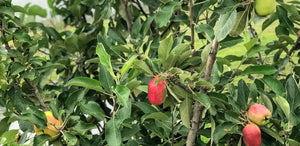 Apple Fruit Salad Trees have different varieties of Apples on the same tree. Apple Fruit Salad Trees are not only space saving, but they're also fast fruiting, giving fruit within two years. They are perfect for your balcony or backyard as they can be grown in pots, and espaliered along lattice and fences. Here's a complete guide to growing different apples on the same tree in the warmer and cooler climates of Australia.
Which varieties of Apples are available on the same tree?
We graft varieties that are suited to all climates of Australia, even the alpine areas of Australia. Choose from red, yellow or green skin apples, crunchy, juicy and full of flavour. All the apples cross-pollinate one another so only one tree is required.
Varieties for All Climates are:
Red Lady
Anna
Tropical Sweet
Golden Dorset
Granny Smith*
Green Glow
Varieties for Cold Climates only are:
Red Delicious
Sundowner
Golden Delicious
Pink Lady
Granny Smith*
Red Fuji
Royal Gala
Jonathan
 * Granny Smith is suitable for both all and cold climates.
Cold climates of Australia include the Alpine, Cool and Mild Temperates. Look up your location on our interactive climate map here and check which of our Apple Fruit Salad climate types suit your area.
How big are Apple Fruit Salad Trees?

Apple Fruit Salad Trees grow to 2-3 metres high by approximately 2 metres wide. They can be planted in the ground and also supported by espalier method to provide support as the tree grows along wires or framework. Secure branches with expandable ties to allow expansion as the branches grow. Find out more about the espalier method of growing Fruit Salad Trees here.
Can Apple Fruit Salad Trees grow in pots?
Yes, Apple Fruit Salad Trees, in fact, all Fruit Salad Trees grow well in pots. Perfect for balconies or backyards, our space saving and fast fruiting trees make perfectly unique gifts! Start with a small pot around 30cm and gradually replace with a larger pot each year, up to half a wine barrel, to a wine barrel. Find out more about growing Fruit Salad Trees in pots here.
Do I need to plant two trees to cross-pollinate?
No, there's no need to plant two Fruit Salad Trees to cross-pollinate, as the grafts are chosen to pollinate each other. 
When can I expect to see the first Apples on my Apple Fruit Salad Tree?
The first fruits will appear in approximately 6-18 months. It's best to remove most of these fruits when they are the size of a tiny pea and allow the framework (branches) of all the grafts to develop first. This is especially important whilst the tree is young.
As the tree grows, thin out/reduce the amount of fruit that has set, always promoting branch growth as well as fruit production. Branch framework needs to be ahead of fruit production to carry the weight of the fruit and establish correct tree shape. More fruit may be allowed to set on any faster growing grafts however, as the fruit production will slow the growth of the branches. Always reduce the number of fruit on the slower growing varieties to allow more energy to go into developing the branches.
How do I choose between the different Apple varieties for my tree?
It can be hard to choose which Apples to grow on your tree! You can purchase a gift card if you're after a unique gift, and then let them pick! Here's a link to our instant gift cards where you can choose the amount and enter your recipient's details so that they can receive their gift card instantly.
Check out our Apple variety table and find which variety fruits at each time of the year so you can harvest at different stages of the year, or just choose from your favourite taste! 
We have some fantastic Apple Fruit Salad Trees for all climates and also just the cooler climates. Simply find the tree you'd like, and then choose from the climate option in the drop down menu. Here's our current range of Apple Fruit Salad Trees:
Leave a comment
Comments will be approved before showing up.