Which Fruit Salad Tree will grow in my climate?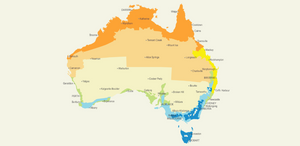 Looking for a Fruit Salad Tree to suit your climate? There are varieties of fruits to suit all climate types.
You can look up your favourite fruit varieties and their requirements by looking at the Variety Information Table for each tree type on the Tree Info Pages here. 
Tropical and warm temperate climates
Stone Fruit Salad Trees grow well in Tropical and Warm climates, as well as Citrus and All Climate Apples.
We don't recommend growing Apricots North of Brisbane, or Apricots or Satsuma (blood) Plums in the Far North of Australia.
Cold climates
Cold climates can grow Stone Fruit, Citrus tree grows in all climates bar the extreme cold Alpine areas (-8 degrees), and the Cold Climate varieties of Apples. 
Here at Fruit Salad Trees, we stock a wide range of fruit trees, which all boast different fruit on the same tree. Each fruit variety retains its own flavour, appearance and ripening time. We graft citrus, stonefruit and multi-apple trees. 
Our fast fruiting trees can be grown in the ground, or in pots on your balcony.
Shop our wide range of trees now and check out our current specials here!
3 Responses
Leave a comment
Comments will be approved before showing up.