Thinning the first fruit on your Fruit Salad Tree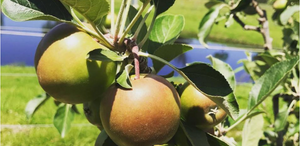 When your Fruit Salad Tree begins to bear its first fruit, it's a momentous occasion! You'll be tempted to sit back and let your tree continue to develop its array of different fruit, however, it's best to let the tree use its energy to grow sturdy framework rather than letting the  new fruit pull down the young branches.
Selectively removing young fruits on your fruit tree is called thinning. 
The first fruits on your Fruit Salad Tree will appear anywhere between six and 18 months. Remove these fruits when they're the size of a pea to allow your tree to use the energy to grow and develop a sturdy framework, which needs to be ahead of any fruit production.
More fruit may be allowed to set on faster-growing grafts, but always reduce fruit on slower growing grafts to balance your tree. Dane shows us how to balance your young tree here.
You may like to train your grafts to grow in a certain fashion. Read more about training your tree with stakes here. Did you know that you can also espalier any Fruit Salad Tree? Espalier your fruit tree by attaching the branches to wires or along a lattice framework, creating a fan shape which results in faster growth. Read more about espaliering your Fruit Salad Tree here.
Here are some of our customers Fruit Salad Tree growing photos.
We stock a wide range of Fruit Salad Trees, which all boast different fruit on the same tree. Each fruit variety retains its own flavour, appearance and ripening time. We graft citrus, stonefruit and multi-apple trees. 
Our fast fruiting trees can be grown in the ground, or in pots on your balcony.
Shop our wide range of trees now and check out our current specials here!
Leave a comment
Comments will be approved before showing up.