Balancing your Fruit Salad Tree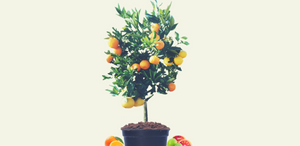 Let your Fruit Salad Tree lead a balanced lifestyle!
Establish a well-balanced Fruit Salad Tree by pruning back the more vigorous growing grafts which are Nectarines, Peaches, Yellow Plums, Lemons, Pomelo and Grapefruit. These grafts will flower earlier in the season than their cousins. You can trim them anytime, especially during the fruiting season. Watch as Scott demonstrates how to balance Fruit Salad Trees here. 
If you don't balance your Fruit Salad Tree, the more vigorous growing varieties will dominate the tree's energy at the expense of the slower growers, ie the Blood Plum, which is often the last to flower and set fruit.
Try to balance your Fruit Salad Tree once a month. Continue to maintain a balance for each graft until the tree is mature.
When your Fruit Salad Tree begins to bear fruit, it may be tempting to let it grow, but your tree will benefit from thinning the first fruit. Read more about thinning the first fruit on your Fruit Salad Tree here.
Hint: Keep each graft confined to grow in its own area of the tree, this will assist in recognising the faster and slower growers. 
Dane demonstrates how to balance a young Fruit Salad Tree here. 
Here at Fruit Salad Trees, we stock a wide range of Fruit Salad Trees, which all boast different fruit on the same tree. Each fruit variety retains its own flavour, appearance and ripening time. We graft citrus, stonefruit and multi-apple trees. 
Our fast fruiting trees can be grown in the ground, or in pots on your balcony.
Shop our wide range of trees now and check out our current specials here!
Leave a comment
Comments will be approved before showing up.