Fruit Salad Trees | An Apple a day...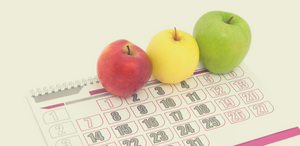 In the 1860s the Welsh proverb "Eat an apple on going to bed, and you'll keep the doctor from earning his bread'' was developed. These days we know it as "An apple a day keeps the doctor away''. Its creation was from folk-wisdom that fruit and vegetable consumption had identifiable health benefits. Anglo-Saxons and Ancient Romans also knew their health benefits, the Apple was also used in Ayurvedic medicine in southern Asia over 1500 years ago.
It is believed that eating an apple every day reduces the risk of having a stroke and lowers bad cholesterol. Apples are high in fibre and Vitamin C and low in sodium (salt) and calories.
There are a few different varieties of apples available on our Fruit Salad Trees, that not only look fantastic when they are growing, but they taste better than anything you will purchase in a store. Best of all you know you have grown them yourself. Take a look at our All Climate apples; they are low chill so only require around 300 hours of chill time and are therefore suited to most climates. 
Anna (Malus domestica 'Anna')                                              
Origin: Israel in 1965
Colour: Red over yellow/green
Purpose: Cooking and Eating
Chill hours: 300
Ripening: Early season
Climate: All
Flowers: White to soft pink
Self-pollinating, heavy cropping, very early season variety that keeps well for 2-3 weeks, crisp juicy flavour similar to a Red Delicious.
Tropical Sweet (Malus domestica 'Tropical Sweet')
Origin: Florida 
Colour: Red blush over greenish yellow 
Purpose: Cooking and Eating 
Chill hours: 250 to 300 
Ripening: Early season- late spring to early summer 
Climate: All 
Flowers: White with a pink tinge
Tropical Sweet is similar to Jonathon in texture and taste and is great used as a dessert apple, it will keep for several weeks, sweet, low acid crispy apple. Benefits from pollinators such as Anna or Golden Dorset. 
Golden Dorset (Malus domestica 'Golden Dorset')
Origin: Bahamas in the 1950s 
Colour: Yellow with a pink blush 
Purpose: Eating 
Chill hours: 100 to 300 
Ripening: Early season 
Climate: All 
Flowers: White to soft pink 
Crispy, firm, sweet and aromatic apple. Self-pollinating but benefits from pollinators such as Anna and Granny Smith
Granny Smith (Malus domestica 'Granny Smith')
Origin: Australia, Epping NSW 
Colour: Bright green with faint white spots 
Purpose: Eating and cooking 
Chill hours: 400 
Ripening: Late season- March to May 
Climate: All 
Flowers: White to soft pink 
Tart flavoured, excellent for cooking. Long shelf life. Self-pollinating.
Lady in Red/ Red Lady (Malus domestic 'Lady in Red')                        
Origin: New Zealand, 1996 
Colour: Bright red 
Purpose: Eating 
Chill hours: 500 
Ripening: Early season 
Climate: All 
Flowers: Light to mid pink 
Similar flavour and texture to the Pink Lady variety, very sweet. Excellent shelf life.  
So there you have it, just a few different apples to tempt your taste buds… So which ones will you pick? View our full range of Multi-Apple trees here.
Here at Fruit Salad Trees, we stock a wide range of fruit trees online, which all boast different fruit on the same tree. Each fruit variety retains its own flavour, appearance and ripening time. We graft citrus, stonefruit and multi-apple trees for all climates and also tailored for cold climates.
Our fast fruiting trees can be grown in the ground, or in pots on your balcony.
Shop our wide range of trees now and check out our current specials here!
Leave a comment
Comments will be approved before showing up.